About Kennicott
Q: Do you sell to the public?
A: Kennicott Brothers does not sell to the general public, only to those who have a resale tax certificate and business license. All new customers must be approved and established as an account before they can purchase at one of our Kennicott locations or online. If you are interested in becoming a Kennicott customer, please fill out our account application here.
Q: Do you sell floral supplies?
A: All our 16 locations stock a variety of the latest floral supplies. You can also shop a curated assortment of your location's best-selling and hard-to-find supplies at kennicott.com, including Special Order items not stocked in-store.
Q: Do you sell plants?

A: Yes, our 16 locations offer a variety of plant options. Contact your local Kennicott for specific availability. Plants are currently not available for online purchase.
Q: How do I become an employee?
A: Kennicott Brothers is among the largest and most progressive floral distributors in the industry. We are always in search of excellent candidates for any of our 16 locations. If you would enjoy working for an employee-owned company that offers a competitive salary and an outstanding benefits package, we welcome the chance to talk with you. Visit our careers page to explore open positions.
Customer Account Information

Q: How do I become a Kennicott customer?
A: Please select the 'Join Kennicott' button in the upper right top navigation of our website. Complete the new customer form with as much information as possible, including a copy of your tax resale certificate. A Kennicott employee at your selected location will contact you within 72 hours. 


Q: Do I also need an Online Account?
A: Yes, you must be an existing Kennicott customer to shop online. For more information on how to become a Kennicott customer, see the related question above. If you are already a Kennicott customer, please click on the 'Sign In' button in the upper right top navigation of our website. You will be directed to our login page where you can create an Online Account.
Q: Who do I contact in my account is On Hold?
A: Please contact the administrator at your Kennicott location for more information on how to get your account off hold.
Payments

Q: How do I receive Kennicott customer terms? 
A: You must be an active customer for 6 months before applying for Kennicott terms. To receive terms, please contact the administrator at your preferred location to receive a Credit Application. Applications may take up to 7 days for processing and approval. 
Once approved, you can use your company terms to shop in-store at your preferred location or online at kennicott.com, Kennicott Direct, and Holex.
Q: How do I access past invoices?
A: You can access past invoices anytime online or request them from your salesperson. To view invoices online, go to your Account Portal and select Invoice History. Your Online Account holds the rolling past 2 years of invoices.
Q: How long will it take for payments I make on Open Invoices online to be posted on my account? 
A: Payments made on open invoices online will be posted within 24 business hours. 
Q: When do you charge my credit card?
A: In-store purchases will be immediately charged to your credit card. If buying flowers or supplies online, your credit card will be charged the day your order is ready to ship. There will be a temporary hold on your card at the time of purchase, but the charge will not be finalized until your order is ready for pick up/delivery. 
Q: Do I have to pay for my purchases before I receive them?
A: Yes. Most customers pay COD (Cash on Delivery) or with a credit card. We will provide Net 30-day status to customers upon approval of their complete Credit Application. Please see the 'Kennicott terms' question above for more information on Kennicott terms. 
Q: What is your credit/return policy?
A: Return or credit requests must be made within 24 hours of receipt of the product. To make a request, contact your salesperson or Kennicott location manager. Please be descriptive in your reason for the return. If you receive a damaged product, please provide photographic support, if possible. 
You may be charged a re-stocking fee for any returned supply items.
Shipping & Delivery
Q: How does Kennicott's shipping process ensure products stay fresh?
A: We bring in flowers directly from our vendor farms to our locations via refrigerated trucks or airplanes. We always strive to attain the lowest shipping price without sacrificing the "cold chain." And, we keep our flowers refrigerated at our locations, right up until the moment they are picked up or delivered.
Q: Are freight costs included? 

A: All freight costs associated with bringing products into our locations are included in the price of the flower or supply item. Charges associated with delivery (or re-shipping from our location to your business) are extra and will be added to your order total. You can avoid paying for delivery by picking up your order at your local Kennicott.
Q: What are your delivery & shipping options?
A: All Kennicott locations offer in-store pick-up and delivery options. To receive more information about specific delivery routes, please contact your salesperson.
When checking out on kennicott.com for supplies, you may select from 3 options:
With Fresh Order (Total combined order minimum of $200): Your supply order will be delivered to you combined with any other pending orders you have, including fresh, at no additional charge.
Next Available Delivery (Total online order minimum of $200): If your online order meets this required minimum, it will be delivered on the next delivery route.
Will Call (No minimum required): You can pick up your supply order next business day. Special order supply items and fresh orders purchased through our Kennicott Direct and Holex sites can be picked up once they arrive at your branch. Your salesperson will notify you when these items are ready for pick up.
Shopping Online
Q: How can I learn more about the new Kennicott.com?
A: Our improved website is blooming with new features to help your business grow, all starting with the one-time creation of your Online Account. This account allows you to access your Account Portal for easy payments and order look-up, shop a curated supplies assortment based on the live inventory and pricing of your Kennicott location, and automatically sign in to shop fresh flowers on Kennicott Direct.
Learn more about how to set up your Online Account and all the great benefits by watching the video below!
Q: Can I buy from multiple Kennicott locations online?
A: No, not currently. When logged in to kennicott.com, you will be shopping the supplies inventory of the Kennicott location you regularly purchase from. When shopping for fresh products from Kennicott Direct or Holex you are viewing products that are available to ship to your Kennicott location.
Supplies
Q: Are online supply items and pricing the same as in-store?
A: Yes, when shopping online, you are viewing a curated assortment of best-selling and hard-to-find supplies items with up-to-date inventory and pricing based on your preferred Kennicott location.
Q: What are Special Order supply items?
A: Special Order supply items are carefully chosen from our top vendors, like Syndicate and Smithers-Oasis, to be purchased exclusively online. These items will ship directly from the vendor to your Kennicott location. Your salesperson will notify you once delivered. You can then choose to either have the order delivered with your next route delivery or pick up in-store.
Special Order items typically take up to 2-3 weeks for delivery. The expected delivery window is noted on each product's page. However, due to COVID-19, we are experiencing delays that may cause your items to be delivered later than expected. 
Q: What are Back Soon supply items?
A: Back Soon supply items are products that are currently out of stock at your Kennicott location, but awaiting replenishment. These items typically take 2-4 weeks to re-stock. However, due to COVID-19, we are experiencing delays. 
Q: What are Closeout supply items?
A: Closeout supply items are products that are last-chance and will not be re-stocked once sold out.
Q: What are your ribbon conversions?
A: Please reference the chart below for ribbon conversions: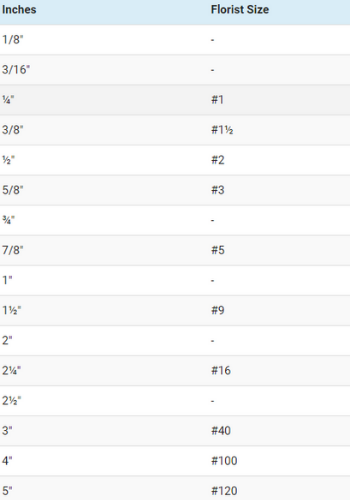 Fresh
Q: What is Kennicott Direct and how do I create an account?
A: Kennicott Direct is a website that allows you to shop thousands of fresh flowers from the live inventory of trusted Kennicott partner farms and save with box lot pricing. Kennicott Direct orders have quick turnaround times and will ship directly to your Kennicott location from Miami or California within days of your order being placed. 
Automatically sign in to Kennicott Direct by creating an Online Account on our website. If you already have an Online Account, visit the Flowers page and select the Shop Now button under Kennicott Direct to start shopping. Please contact support@kennicott.com with any questions regarding your Kennicott Direct account.
Q: What is Holex and how do I create an account?
A: Holex is a website offering Kennicott customers direct access to high quality Dutch Flowers. Shop by-the-bunch, create custom mixed boxes, and browse unique novelty products. Holex orders will ship directly to your Kennicott location.

To create your Holex account please contact support@kennicott.com. You will be provided with your credentials to log in within 48 hours of the request. Please note: This is the only one of our 3 websites where you need separate login information. But you can still easily access the site through our Flowers page here.
Q: How do I access the Holex website?
A: You can access Holex here. Please note that this is a new URL for Holex, so we strongly recommend saving this link to ensure you can access it next time you shop. You can always access the Holex site from the Flowers page of our site.
Q: How is shopping for flowers through Holex different from Kennicott's other sites?
A: In March 2022, Kennicott launched the new and improved Holex website. The most exciting upgrade is the enhanced shopping cart functionality. All orders will now only ship once you click the green "Place Order" button at the bottom right of the Checkout Page of each Unconfirmed Cart. If you do not click "Place Order", your order will be deleted after the timer on each product line expires. Be sure that your order is correct, because once you click the "Place Order" button, it cannot be edited. As a reminder, unlike our other sites, you'll need to use your specific Holex username and password.